Celebrating a 12 Years of Legend Cinema: A Business Success Story in the Cambodian Film Industry

/
Celebrating a 12 Years of Legend Cinema: A Business Success Story in the Cambodian Film Industry
Publish Date: Aug 17, 2023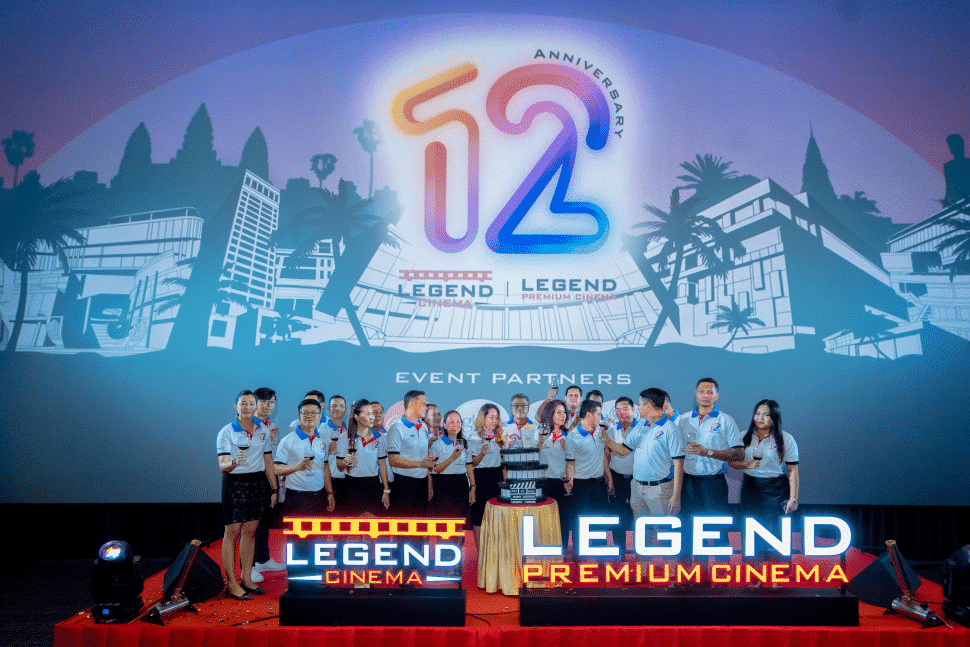 Celebrating a 12 Years of Legend Cinema: A Business Success Story in the Cambodian Film Industry Cambodia Investment Review
In a gala celebration that brought together over 100 influential individuals of the Cambodian film industry, Legend Cinema, the pioneer of international standard cinema in the nation, marked its 12th year in business on July 7, 2023. Founded in 2011, this homegrown company has become a hallmark of Cambodia's cinematic innovation and a business symbol of local entrepreneurial success.
Hosted in the Giant Hall of Legend Premium Olympia the event not only encapsulated the brand's journey over the past twelve years but also provided a platform to outline the company's strategic growth and operational excellence. The company has grown exponentially from a single cinema operation to a nationwide chain of 13 branches, with 11 cinemas in Phnom Penh and two in Siem Reap and Sihanoukville. This remarkable business expansion reflects the cinema giant's resilience and adaptability in a rapidly evolving industry.
Consistent commitment to technological innovation
The Legend Cinema's narrative has been characterized by a consistent commitment to technological innovation. The company holds the accolade of introducing 3D cinema technology in Cambodia, a testament to its pursuit of enhancing local cinematic experiences. The adoption of modern viewing formats such as ScreenX, Dolby Atmos, and Giant Screen further cements the company's position as a leader in the industry. Moreover, its Gold & Diamond Class halls, offering a luxurious cinema experience, signify the brand's dedication to premium customer service and unique entertainment offerings.
In an enthusiastic tribute to its twelve successful years, Legend Cinema rolled out an array of promotional initiatives. A highlight among these was the Lucky Draw Campaign, where customers spending a minimum of $12.12 on tickets or refreshments got a chance to participate and win exciting prizes. Adding to the celebratory fervor, the company launched a 12th Anniversary movie pass card, offering customers the opportunity to redeem up to five 2D movie tickets for only $12.12.
The event was a harmonious blend of entertainment, announcements, and future-oriented initiatives. Among various activities, a particularly intriguing event was the Legend 12th Anniversary Popcorn Box Design Contest, where the winner received a hefty reward of a membership card worth $1,200. The celebrations culminated with a cake-cutting ceremony, a special movie screening, and the official launch of Legend Cinema and Legend Premium Cinemas' new logos, symbolizing a fresh phase of business growth.
Make a significant impact in this digital era
Legend Cinema's CEO, Mr. Te Song, took this opportunity to pledge the brand's continued dedication to superior service and exceptional cinema experiences. "Our ambitious plans are in place to make a significant impact in this digital era. We are committed to implementing new systems, technologies, and upgrades, all with the aim of delivering exceptional cinematic experiences, enhanced by the unique warmth of Khmer hospitality," said Mr. Song.
This 12th-anniversary milestone marked not only a celebration for Legend Cinema but also a testament to Cambodia's evolving film and entertainment industry. This homegrown cinema chain has been instrumental in transforming the country's cinematic landscape, making it a pivotal player. As Legend Cinema navigates its future path, the company's strong commitment to innovation, exceptional service, and impactful industry changes showcases the resilience and potential of local Cambodian businesses.