Legend Cinema & SMART Continues Partnership for Three More Years across 12 Cinema Branches

/
Legend Cinema & SMART Continues Partnership for Three More Years across 12 Cinema Branches
Publish Date: Jul 12, 2023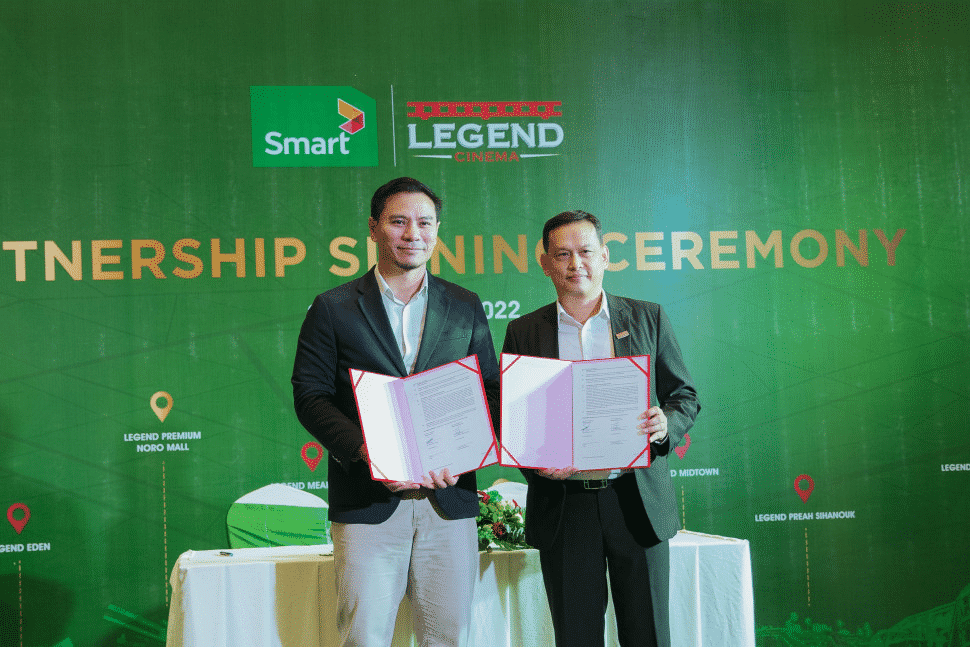 The partnership between Legend Cinema, a local international standard cinema, and Smart Axiata, one of Cambodia's top telecommunications companies, have been renewed for three more years for the six current operating theaters. Additionally,a total of six new additional branches have been added which includes those in Sihanoukville and Siem Reap.
Back In 2014, the two corporations began working together for the first time in Phnom Penh. This renewed partnership will cover all 12 locations of Legend Cinema and Legend Premium, including Legend Cinema's 6 newest locations: Legend Cinema, Midtown, K-Mall Sihanoukville Branch, Legend Premium Cinema, Noromall Branch, Legend Premium Branch, Olympia Branch, and Legend Premium Sen Sok Branch.
On 22nd December 2022, the management of Legend Cinema and Smart Axiata, as well as distinguished guests, attended and witnessed the signing ceremony between the two companies. Mr. Suly Pheng, a well-known singer, also performed and entertained the guests during this remarkable occasion.
Acting Smart Axiata CEO Feiruz Ikhwan stated, "As the leading digital company in Cambodia, Smart Axiata is constantly looking for new partnerships and business opportunities to offer clients added values to their daily life. We firmly believe that this partnership's expansion would bring ample benefits to our young audience, particularly to those who enjoy watching movies at a cinema with high standard and quality.
Mr. Te Song, CEO of Legend Cinema, also expressed his delight in working with Smart Axiata to enhance modern lifestyle and enjoyment through international-standard movie entertainment. Legend Cinema is grateful to continue its collaboration with Smart Axiata on a long-term partnership.
The partnership between the two corporations signifies trust and long term commitment in delivering greater products and services through various marketing campaigns and activities.
"Smart is a company focused on digital advancement, encouraging creativity, innovation, and entertainment for all Cambodians, especially for the younger generation. Smart Axiata is an outstanding corporation that endeavors to spread joy and dreams, and world's best entertainment."
This strengthened relationship will bring consumers great deals and offers. At any of the 12 Legend Cinemas locations, SmartVIP members can enjoy 10%–15% discount on all tickets, beverages, and snacks.
Furthermore, on 23rd December, Smart VIP members get to enjoy 50% discount on movie tickets (in Smart Halls), including the six newest Legend Cinema locations: Midtown, K-Mall Sihanoukville Branch, Legend Premium Cinema, Noromall Branch, Olympia Branch, and Legend Premium Premium Sen Sok Branch. Movie-goers will receive a 50% discount on movie tickets for Smart VIP customers at all Smart Halls from 24th till 30th December at all 12 branches of Legend Cinema.
The partnership between Smart Axiata and Legend Cinema represents the dedication of the two top businesses in Cambodia in advancing and assisting the Cambodian film industry, as well as to enhance the cinematic experience for locals and bettering their quality of life.
Smart Axiata Smart Co., Ltd. a well-known mobile phone provider in the Kingdom of Cambodia. Under the "Smart" brand, the corporation presently serves 8 million users. One of Asia's leading telecom service providers, Axiata Group Berhad, is the parent firm of Smart Axiata.
One of the top mobile phone service providers in the Kingdom of Cambodia is Smart. Fourth-generation "4G LTE" technology services, 4G + technology, 4G + technology with HD Voice (VoLTE), and LTE Advance Pro services were all introduced by Smart as the first operator in 2014, 2016, and 2017, respectively. Smart showcased its dominance in mobile data services by hosting the first "5G" test prototype in Cambodia in the middle of 2019. Additionally, Smart offers a variety of mobile technologies, such as 2G, 2.5G, 3G, and 3.75G technology, in addition to roaming services in more than 190 nations. For over 99% (ninety-nine) of the population in the Kingdom of Cambodia, Smart has been providing coverage.
By providing a variety of cutting-edge civilized entertainment services and programs, the organization is also actively developing into a digital operator. This includes collaborations with multinational organizations like Apple, Facebook, Universal Music, and Smart Life Insurance, as well as digital services like SmartPay, Pleng by Smart, Pi Pay, and more. SmartNas. By 2022, Smart hopes to have established itself as the leading and most well-liked provider of telecommunications services in the Kingdom of Cambodia thanks to its High Responsibility for Social Work and Sustainability initiative. for societal and economic advancement.
In total, Smart employs more than 1,000 people, both domestic and international, all of whom are working toward the company's shared goal of connecting people and enhancing their lives. Smart, live life, be smart.