(COCA-COLA) CAMBODIA BEVERAGE COMPANY AND LEGEND CINEMA REFRESHES PARTNERSHIP FOR 3 MORE YEARS

/
(COCA-COLA) CAMBODIA BEVERAGE COMPANY AND LEGEND CINEMA REFRESHES PARTNERSHIP FOR 3 MORE YEARS
Publish Date: Jul 12, 2023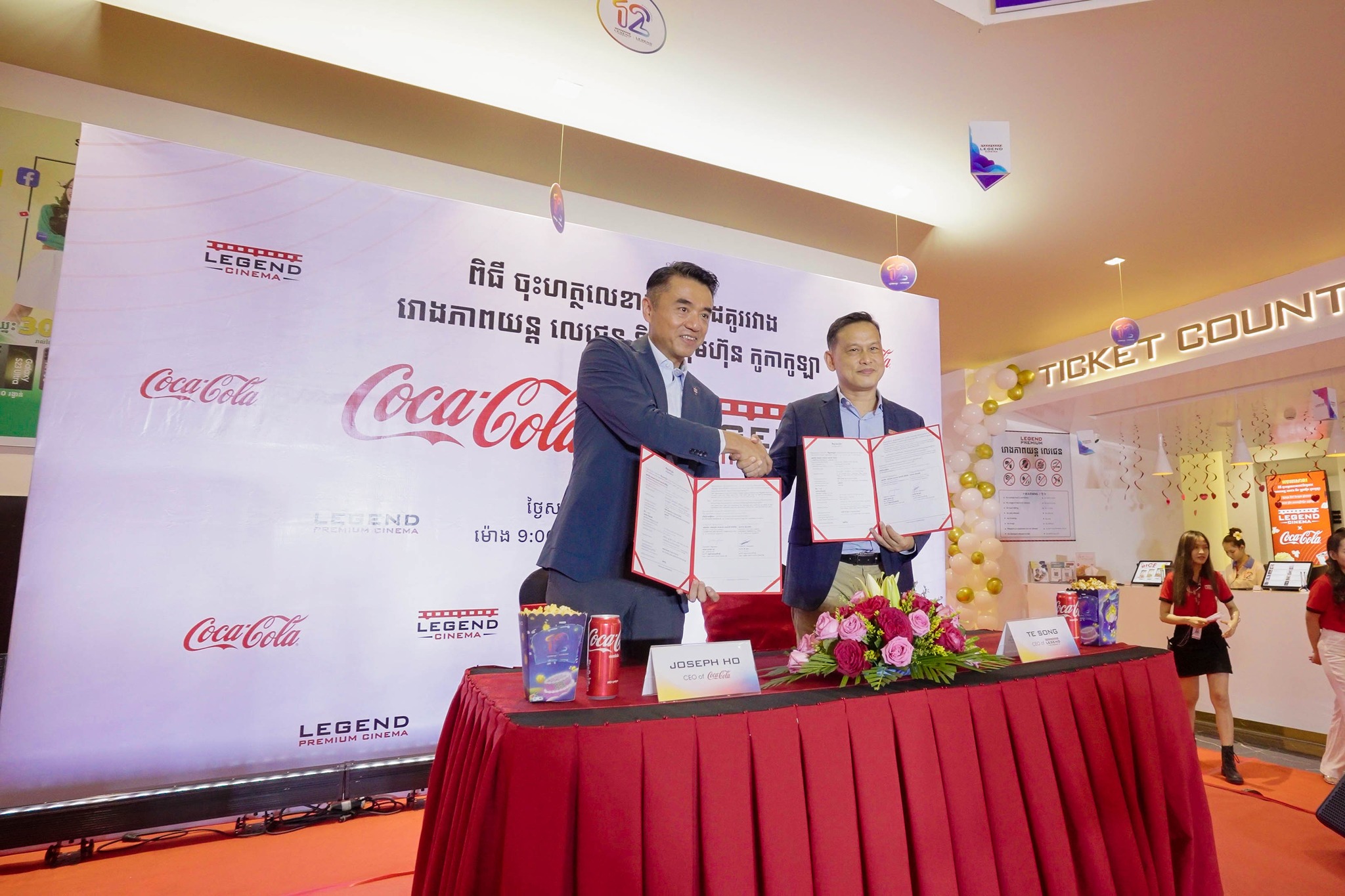 (COCA-COLA) CAMBODIA BEVERAGE COMPANY AND LEGEND CINEMA REFRESHES PARTNERSHIP FOR 3 MORE YEARS
Phnom Penh, July 7th – Cambodia Beverage Company Ltd., also known as Coca-Cola Cambodia, is 'refreshing the exclusive "carbonated soft drinks" agreement with Legend Cinema, for another three-year partnership from 2023 -2025.
The new deal sees the renewal of a more than 10-year partnership to provide the iconic sparkling drinks Coca-Cola, Sprite and Fanta to Legend Cinema-goers, extending an agreement that was put in place since 2011.
With the extension of the existing agreement, Cambodian cinema-goers are able to keep enjoying the refreshing drinks which will now be available to cinema-goers when they go to see a movie at any of the 12 Legend Cinema branches in Cambodia.
Speaking at the partnership renewal ceremony, Cambodia Beverage Company (Coca-Cola)'s CEO Joseph Ho said: "we have been a long-time beverage partner with Legend Cinema and a longstanding favourite drink bottler in Cambodia since the 1960s. We are delighted to be able to continue our partnership with Legend Cinema"
Legend Cinema CEO Te Song said: "We value our partnership for the provision of Cambodia's most popular carbonated soft drinks at our cinemas and we look forward to continuing to enhance all Legend Cinema-goers experience by 'refreshing' our agreement. We view this agreement as a win-win long-term partnership."
In addition to Coca-Cola, Sprite and Fanta, Cambodia Beverage Company (Coca-Cola) also offers other popular brands like Schweppes, Dasani, Fuzetea, Samurai, Predator, Aquarius and Thums Up Charged.
During the signing ceremony, Coca-Cola Cambodia's CEO Joseph Ho added: "In the coming weeks and months, we will enhance the cinema experience even more with 'soon to be available' exciting digital experiences - that we will soon deploy."
Coca-Cola Cambodia has been one of the leading Non-Alcoholic Ready To Drink (NARTD) that having refreshed Cambodia since 1963.
Legend Cinema screened its first movie which was a Hollywood Blockbuster film, at Legend Cinema City Mall back in 2011. As of today, they have 13 branches providing immersive movie and entertainment experience.
About Cambodia Beverage Company
Cambodia Beverage Company Ltd, referred to locally as Coca-Cola Cambodia, is a leading manufacturer & distributor of non-alcoholic ready-to-drink (NARTD) beverages throughout Cambodia. Our state-of-the-art bottling plant (commissioned in 2016) is situated within PPSEZ, one of the leading Economic Zones in Phnom Penh. CBC is a 100% subsidiary of Swire Coca-Cola, the fifth largest bottling partner of The Coca-Cola Company by global volume with a franchise to manufacture, market and distribute products of The Coca-Cola Company in Cambodia, Vietnam, Greater China and the western USA. Cambodia Beverage Company produces 18 different beverages under 10 brands (Coca-Cola, Sprite, Fanta, Schweppes, Dasani, Fuze Tea, Aquarius, Thums Up Charged, Samurai and Predator) and within six (6) different NARTD categories (Sparkling, Tea, Energy, Water, Isotonic and Invigorating), which are supplied to our customers throughout the Kingdom. Coca-Cola Cambodia directly employs more than 830 staff while creating indirect employment opportunities for another 8,000+ staff across the Kingdom. We are proud that >99.7% of our workforce are Cambodian nationals and that >30% of our staff are female, with women making up 37% of the senior management team. We are committed to increasing our female diversity and are aiming to have 50% female staff in our local workforce by 2030. We are committed to integrating sustainability into everything we do. By 2030 we aim to collect and recycle a bottle or can for each one we sell and use at least 50% recycled material in our packaging. We are committed to return to nature and community 100%+ of the water we use in our drinks and their production. We are working to increase water security where we operate, where we source ingredients, and where we touch people's lives.
For media enquiries, please contact:
Ms. Sambath Munyvorleak
Email: smunyvorleak@coca-cola.com.kh
About Legend Cinema Cambodia.
Legend Cinema is the no. 1 and the first International Standard Cinema in Cambodia, created and operated by Khmer since 2011. Our rapid growth and expansion from 1 to 13 cinema locations in the past 12 years across the country, has shown our strength in delivery and influence in the film and entertainment industry.
Today, we have successfully implemented and deployed advanced cinema technologies and levelled up our offerings, beyond cinema norms. Our team is dedicated to providing top tier immersive cinema experience and excellent services with the essence of Khmer hospitality. With our new direction in place, we are determined to inspire, drive change and make an impact in the industry, and exceed expectations.
For media enquiries, please contact:
Email: marketing@legend.com.kh